The makers of Bear's Backyard Honey are the bees in two beehives located in Bellingham, Washington. These girls did just about all the work!
A couple of humans regularly checked up on the bees, made sure they were happy, stole their surplus honey in mid-August, extracted the honey from the frames and bottled it in mason jars. These two humans will do their best to make sure the bees make it through the winter so they can make honey again next year.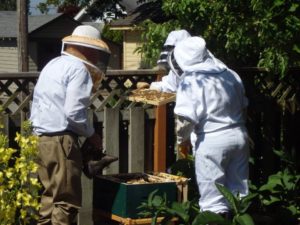 These humans are Kendall and Kirsten.
In addition to being an animal and nature lover, Kendall  is the author of Pick-Up Dogs: How Two Rescue Dogs Saved the West From Being Won. After stints in San Francisco, Brazil, Spain, Costa Rica, Ireland, Vermont and Kansas, he now lives in Bellingham, Washington where he is also the chief storyteller for the oldest and largest fishermen-owned cooperative in North America. When not slurping down Bear's Backyard Honey or eating foraged treats from the forests of Whatcom and Skagit counties, he devours line-caught wild Alaskan seafood.
Here's what he says about beekeeping and Bear's Backyard Honey: "The rich complexity of our honey makes it some of the best I've ever had, but I admit I'm biased. My dad was a beekeeper and so was his dad. My granddad was a farmer who kept bees among the orange orchards and lima bean fields of an agricultural southern California that just about no longer exists. We all have our opinions and my dad says that lima bean honey is the best. He kept his bees in our backyard in the Bay Area and some nearby apple orchards and the apples can also make for wonderful honey varietals. He gave up beekeeping mainly because of the threat of Africanized bees in the mid-1980s. Now there are other threats to beekeeping. One notable threat is what the press has called Colony Collapse Disorder, but which really the effects of a number of threats of an unchecked industrial agriculture system and a symptom of monocultures and pesticides. At the end of the day, you are what you eat and the honey you eat is what your bees ate. My only purpose with this website is to illustrate that we need to do a better job taking care of our planet because it's truly the backyard that feeds us. The best thing people at home can do is plant pollinator-friendly plants, not just for the honey bees but for the dozens of native pollinators who are even more crucial to maintaining  healthy gardens, communities and ecosystems."
Kirsten gardens, keeps bees, and forages for wild foods near her home in Bellingham. When she's not reading or writing about nature, she's probably thinking obsessively about additional ways to spend time outside.
Kirsten blogs about her adventures with plants and her explorations of the natural world at www.abies.org. She's on Instagram as @daily_prairie.
And Marcos BrownBearStandsClose is the inspiration. Bear's Backyard Honey is happy and sweet and dark brown like Mr. Bear himself.
Bear is, as far as we know, a greyhound/Lab who spent eight months at a shelter before being adopted. He has worked as a certified therapy dog at a local psychiatric facility, hospice and several assisted living centers. He is now retired and living the good life, taking walks in his neighborhood, and going bike camping in his Beariot.